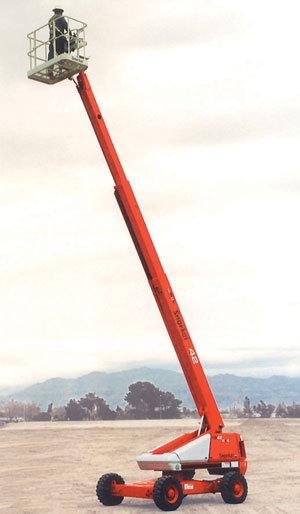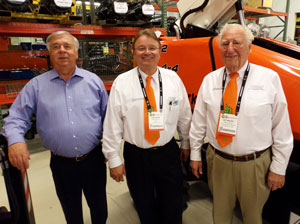 Ahern Australia was formally known as Snorkel Australia. Snorkel was founded in 1959 in the United States of America, as a fire equipment company which developed an elevated work platform specifically designed for aerial firefighting and rescue work.
These products set the standard for aerial firefighting equipment, which were proven for reliability and versatility, and created the foundations for the elevating work platform market as we know it today.  Snorkel was one of the founding members of the global EWP industry.
A brief history of Snorkel & Ahern Australia:
1959
Snorkel was founded by Art Moore in the USA, and remained a privately-owned business until 1971.
1971
Snorkel was sold to ATO Inc., which later became Figgie International which was a Fortune 500 Company.
1977
Snorkel entered the construction/industrial market with the first Telescopic boom type machine used to lift persons to height. These machines were engineered from the technology used in the firefighting product range using state of the art hydraulic and electrical systems and an aluminum telescoping boom.
1988
The company capitalized on an opportunity to complement its already successful boom range with the acquisition of Economy Engineering – a leading manufacturer of self-propelled scissor lifts and ground entry vertical lift work platforms.
1989
The company then expanded Snorkel to include manufacturing facilities in Levin, New Zealand and sales and service offices in Sydney and Melbourne, Australia. The company was beginning to develop a more "global" manufacturing footprint. The acquisition provided a broader range including the trailer mounted machines and offered a quality distribution of the complete product line in Australia, New Zealand and Asia.
1997
Snorkel became part of OmniQuip International Inc. who decided to sell the fire and rescue apparatus product lines, and focus on the EWP division. The fire and rescue product line was sold in 1998 to American LaFrance, a subsidiary of Freightliner.
2002
Snorkel was purchased from OmniQuip by a group of investors known as the Elwood Holdings LLC headed by Al Havlin. They re-opened their plant in Elwood, Kansas after it had been shut down previously that year.
2007
UK-based The Tanfield Group Plc purchased Snorkel in 2007 from Elwood Holdings LLC, and created a global distribution network for the EWPs.
2010
The Tanfield Group introduces new branding for Snorkel, creating a consistent global brand and product line.
2013
US-based Xtreme Manufacturing LLC, which is owned by Don Ahern, acquired the struggling Snorkel business in 2013, purchasing 51% of the company from The Tanfield Group Plc.
The investment from the acquisition was used to boost the manufacturing process and spare parts inventory, providing the business with improved new equipment availability and aftermarket service capability.
2014
The Australian division of Snorkel is rebranded as Ahern Australia, selling and servicing Snorkel elevating work platforms.
2019
Ahern Australia celebrated 30 years of Snorkel in Australia, in the same year that Snorkel celebrated 60 years of innovation, since it was founded by the late Art Moore in 1959.