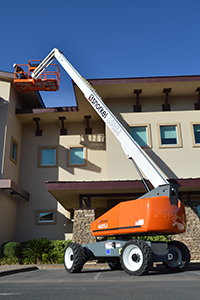 Snorkel will debut its new 460SJ mid-size telescopic boom lift for the first time globally at HIRE 16. The new boom lift is part of a new family of four telescopic boom lifts introduced by Snorkel this year, including the 660SJ that was officially launched at Bauma 2016.
Built to last, the all-steel Snorkel 460SJ delivers a working height of 16.0m, an outreach of 12.2m and can lift up to 272kg. The 460SJ features a 2.0m jib boom that can articulate 135°, and the lift is also available without the jib boom as the 400S model with a working height of 12.2m.
Fitted with a fixed axle as standard, the 460SJ delivers excellent rough terrain performance thanks to a traction manifold that delivers oil to all four wheels at all time, providing constant 4-wheel drive, with the ability to climb gradients of up to 50%. An oscillating axle is available as an option. The 460SJ features Snorkel's new tri-entry removable platform, that is equipped with Snorkel Guard™ secondary guarding system as standard, and the lift benefits from proportional joystick controls for all functions, including platform rotate and level.
The Snorkel 460SJ will be on display alongside the larger Snorkel 660SJ at HIRE 16. Both models are now available to order and visitors to the show will find them on Ahern Australia's stand in the Outdoor Area (A8).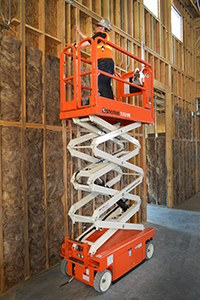 New Scissors for Australia
Ahern Australia will also officially launch Snorkel's new line of hydraulic drive electric scissor lifts at HIRE 16. The new Snorkel electric scissor lift line includes six models, three of which will be on display at the show. The S3219E, S3226E and S4732E will make their first appearance in the Australian market, showcasing features such as twin-door 'inside-out' access to components, upsized kingpins, dual shear scissor stack for increased rigidity, and on-board diagnostics for easy maintenance. The new scissor lifts are now available to order.
Trailers & Telehandlers
Manufactured in Snorkel's New Zealand facility, Ahern Australia will be showcasing two products designed specifically for the Australian market. The MHP13AT is a robust and reliable towable boom lift, offering 12.9m working height and 6.4m of outreach, that is ideal for tradespeople and facilities maintenance. The Snorkel S2255RT is a narrow and lightweight compact rough terrain scissor lift that can lift up 420kg to a working height of 8.5m. Designed predominantly for working in constricted areas on uneven ground, this lift can be towed on a trailer behind any vehicle with 3.0 tonne GVM or greater, making it ideal for multi-site applications.
Ahern Australia will also display an Xtreme Manufacturing XR1255 rough terrain telehandler at the show. Now available to order in Australia, the heavy duty XR1255 can lift up to 5,400kg, and has a maximum reach of 16.0m, making it ideal for multi-storey construction projects.
HIRE 16 takes place on the Gold Coast, Queensland from 5th – 6th May 2016, and is organized by the Hire & Rental Industry Association (HRIA). Ahern Australia has two stands at the show – Indoor Stand 139 and Outdoor Stand A8.