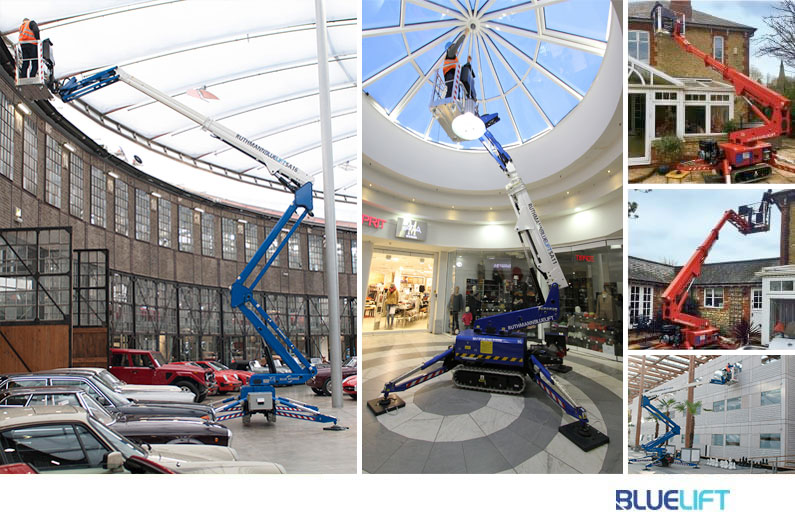 BLUELIFT produces safe and reliable elevated work platforms that are simple and easy to use. Ahern Australia is the exclusive distributor for the full line of Italian lifts in Australia. These Italian-made spider lifts feature advanced technology, lightweight designs and high performance.
Suitable for a wide range of applications, the lifts work for maintenance, construction or industrial uses. The vertical and horizontal reach of the Italian lifts maximize production both indoor and outdoor. Carrying a platform capacity from 120kg to 250kg, the spider lifts have extensive ranges. Maximum working height extend from 10.8m to 26m with horizontal outreach from 5.3m to 14.5m.
Ergonomic designs allow operators to easily move the lift into position, even in tight spaces. Proportional controls deliver precise maneuvering to make easy work of accessing high places. BLUELIFT also includes simultaneous electro-hydraulic capabilities for greater handling where needed. Combining a telescopic boom and articulating jib adds up-and-over capabilities on many models.
For added protection, interlocking outriggers help the spider lift maintain balance on all terrain. A self-stabilizing system locks the spider lift into place for safe work at height. Hydraulically operated articulating outriggers can be set at individual heights. Non-marking rubber treads leave no trace on finished floors.
Compact and narrow, BLUELIFT spider platforms can fit in confined spaces. It is also designed to be lightweight and easily transported between jobs. Even the heaviest spider lift at 3350kg can be towed by truck or trailer. The low machine weight allows the spider lift to operate on soft or sensitive surfaces.
The first-ever full hybrid solution meets industry needs for zero emission equipment. Three energy-efficient operating modes offer versatility by switching between battery power and combustion engine. On auto mode, the machine selects the most efficient power source to maximize battery cycle. BLUELIFT spider lifts meet restrictions for work environments requiring lower emission machines.
For more information on RUTHMANN BLUELIFT products, click here.
Learn more about BLUELIFT Hybrid click here.
VIDEO: Easily Removable Platform
VIDEO: Self-stabilizing system for automatic leveling